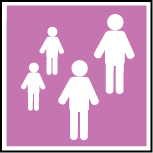 HOW WILL THE LIFE RENEWED PROGRAM MEET YOUR NEEDS?
 Life Coaches, organizations and clinicians needing a comprehensive and easy to use quality of life assessment will  find it here. It is useful for coaching individual clients and also as part of program evaluation.  This assessment can be used with a wide variety of programs to measures clients' growth, program effectiveness and the quality of care.
LIFE RENEWED QUALITY OF LIFE ASSESSMENT™ SOFTWARE (QOLA) is a powerful tool that assesses and evaluates clients, volunteers, instructors and programs. The Quality of Life Assessment Software can be used with a wide variety of programs to measure individual growth, quality of instruction, and program effectiveness.
LIFE RENEWED MAPS™  (Measure, Analyze, Plan, Succeed) is used in our coaching process that guides people into positive behavioral changes with data from the Quality of Life Assessment Software report.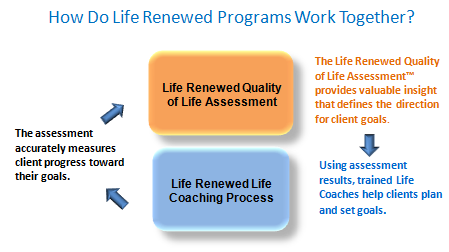 HOW DOES THE QOLA ADD A EVIDENCE-BASED COMPONENT TO YOUR PROGRAM?
Evidence-based means applying evidence gained from the scientific method to certain parts of a program or activity. It seeks to assess the quality of relevant evidenceand is the conscientious, explicit, systematic, and judicious use of current best evidence in advising and decision making. 
Evidence-based assessment (EBA) recognizes that many aspects of quality of life depend on individual factors and value judgments that are only partially subject to scientific methods. EBA, however, seeks to clarify those parts of the assessment that are in principle subject to scientific methods and to apply these methods to ensure the best measurement of quality of life.
HOW DOES THE LIFE RENEWED QUALITY OF LIFE ASSESSMENT™ (QOLA™) MAKE A PROGRAM INTO A "PROCESS WITH A FEEDBACK LOOP"?
The assessment will also be used to evaluate both life coach and program effectiveness. Although programs will differ in their specific purpose, we assume that improved quality of life is a universal objective.  By aggregating data across clients, program administrators will be able to gain insights into the effects of their efforts.  These data will be useful in refining program content and delivery.
TRANSFORMING LIVES.  CHANGING COMMUNITIES
Life Renewed is an organization that believes every person's life has a plan and a purpose. Keeping with that belief, we have created programs that transform lives and change communities. Life Renewed programs are step by step, easy to use, comprehensive, and produce measurable results.
Our online Life Renewed Quality of Life Assessment Software and our Life Coaching Program were developed for organizations that bring a better quality of life to others.